Welcome to Moalboal
Excellent scuba diving, a relaxed ambience, fine dining - this is what you can expect at Sole e Mare Beach Resort here in Moalboal on the island of Cebu in the Philippines. The Sole e Mare Beach Resort caters foremost to the active scuba diver, snorkeler and water sport enthusiast.
The Sole e Mare Beach Club Resort in Moalboal is a beach resort very close to the shore and has 14 rooms. The rooms are conveniently located at the heart of Panagsama Beach here in Moalboal, close to the ocean and just a stone throw away from the next coral reef.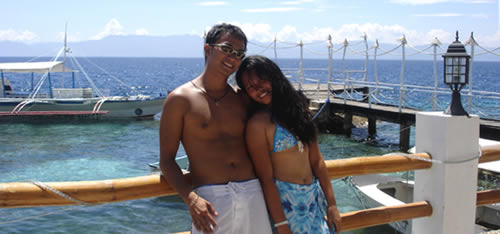 Panagsama Beach: Sole e Mare is located at Panagsama Beach in Moalboal. Panagsama is a colorful village where you can have a leisurely stroll along the main strip by the shore, bask by the swimming pool, or snorkel off the beach. The swimming pool is located just at the waterfront. The restaurant serves Filipino, Italian and international cuisine and has pleasant ambience. The next internet café is only a walking distance away. Evening entertainment is found along the strip of Panagsama Beach just outside the resort. Lots of native open air bars, local taverns and other tropical watering holes serve ice-cold beer and other refreshments. Plenty seafood restaurants, eateries, barbecue stalls beckon for you to stop over, especially after a day of scuba diving. And all for very reasonable prices.
Scuba diving is the foremost activity here in Moalboal. Warm tropical water, a colorful marine life, steep walls and a vibrant marine eco system lure scuba divers from all over the world to Moalboal. Turtles are seen nearly on every dive and sometimes divers are awed by an encounter with the giant whale shark, the biggest fish on earth.
Thrilling adventure activities complement the scuba diving activities. Jungle trekking, river climbing and rappelling waterfalls are activities for people with active life styles.
If you are looking for a peaceful getaway with local Filipino flair, a place which is not overrun by tourists and lives from scuba diving, snorkeling and other water activities, the Sole e Mare Beach Club Resort in Moalboal, Cebu, Philippines is your choice.