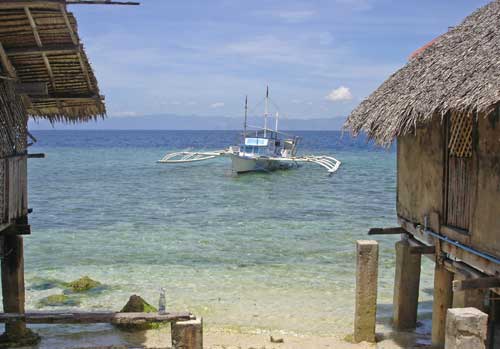 Panagsama Beach in Moalboal is just 4 km from the town center of Moalboal. The Sole e Mare Beach Resort is just in the center of the beach with all the action. The beach strip invites for a leisurely stroll, lots of open-air bars (like the Chili-bar pictured below) restaurants, some more beach resorts and dive centers, street vendors peddling fruits, fresh caught fish, colorful T-Shirts or massage services.  If you want to explore the small country town of Moalboal, take a motorbike with sidecar, called tricycle, and within 10 minutes you are in Moalboal town. In Moalboal you will find a bustling market, eateries, fruit stands, bakeries and on the other side of the road, near the sea, the fish market. The famous Orchid Gallery, a tropical garden sized several hectares, is just 2 km away. You can walk over to the Orchid Gallery, where you will find lush tropical garden, a swimming pool, a little private zoo with exotic birds and monkeys and an orchid plantation.
Panagsama Beach
Panagsama Beach is the located in the west side of the peninsula, about 4km from town proper. Actually Panagsama Beach is an old fishing village, some remnants of the old village are still entwined within the beach resorts, restaurants and dive centers and give the beach its unique charme and atmosphere. Panagsama has no real sand beach but rather a rockier beach which quickly gives way to a coral reef abundant with marine life. Thus it is famous with scuba divers and snorkelers and not so much known as a place for beach lovers. The combination of spectacular scuba diving, especially in Pescador Island and Sunken Island, and outdoor adventure tours in jungle covered mountain valleys made this place famous with divers and outdoor enthusiasts.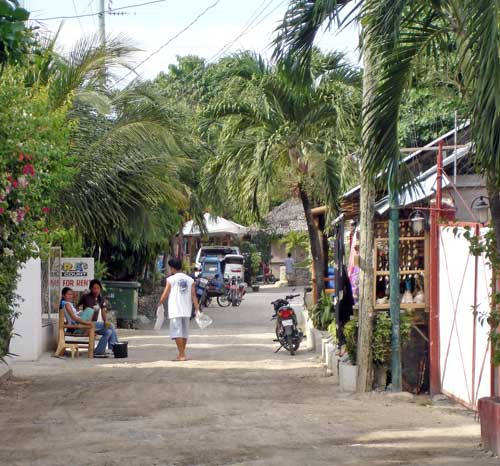 Cebu
The UK-based Condé Nast Traveler Magazine named Cebu the 7th best island destination in the Indian Ocean-Asia region in 2007, 8th best Asian-Pacific island destination in 2005, and 7th in 2004.
Cebu is one of the provinces of the Philippines. It lies to the east of Negros Island; to the west of Leyte and to the southeast is Bohol province. Cebu Island is a long narrow island stretching 225 km (140 mi) from north to south, surrounded by 167 neighboring smaller islands. Of the hundreds of small islands some are uninhabited which make them the targets of adventure-seeking tourists.
Cebu is known for its narrow coastlines, limestone plateaus, and coastal plains, all characteristics of a typical tropical island. Cebu also has predominant rolling hills and rugged mountain ranges traversing the northern and southern lengths of the island. Cebu's steep mountains reach over 1,000 meters.
Its capital is Cebu City, the oldest city in the country and is served by Mactan-Cebu International Airport in Mactan Island, thirty minutes drive from downtown Cebu City.
Cebu is one of the most developed provinces in the Philippines and the main center of commerce, trade, education and industry in the central and southern parts of the archipelago. Cebu has five-star hotels, casinos, white sand beaches, world-class golf courses, convention centers, and shopping malls.
Source: http://en.wikipedia.org/wiki/Cebu - Some more info on Moalboal in Cebu here.